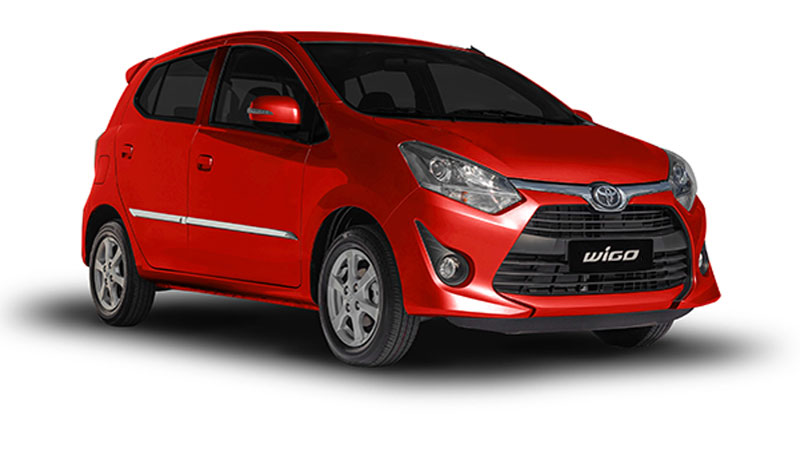 The Toyota Wigo is an entry-level hatchback offering of Toyota Motor Philippines for the urban-dwelling young professionals or those looking for their first car. With a sporty front fascia, rear spoiler, and third brake light, the Toyota Wigo exudes fun and excitement from any angle. Known as the Daihatsu Ayla and Toyota Agya in other Asian countries, the Wigo consistently claims its throne as one of the Philippines' best-selling cars, year after year.
New in the facelifted Wigo are projector headlamps and LED taillights, along with an aggressively-styled fascia. Despite its size, the Toyota Wigo gives an ample amount of legroom for the backseat passengers. G variants have an iPod player with Navigation display and steering wheel controls, with audio taken care of by four speakers. Airbags, ABS, and seat belt warning are standard, while the G variant has an added vehicle immobilizer and alarm system. The Toyota Wigo runs on a 1.0-liter gasoline engine that delivers 66 horsepower and 89 Newton-meter of torque. It's available in either a 5-speed manual or 4-speed automatic transmissions, with five colors to choose from: Orange Metallic (new), Silver Mica Metallic, Gray Metallic, White, Black, and Red.
Base Rate
| | |
| --- | --- |
| 1-6 Days | 1,300 php |
| 7-21 Days | 1,200 php |
| 22 and Above | 1,000 php |
Fuel will be shouldered by the renter.
24 hours' car rental, city drive only. When used for out of town trips, we have a separate rate for it, please contact us regarding this matter.
Requirements and Customer Reminders
REQUIREMENTS
2 Valid IDs
Latest proof of billing like electric or water etc.
NO CASH DEPOSIT/CASH BOND REQUIRED
Conditions before returning the unit/car:
Check if there are any scratch and dents.
FULL TANK IN AND OUT
Make sure to have it car wash when returned.
We offer discounted rates depending on the number of days you will be renting and what car you will be renting.
You can have with SELF-DRIVER or WITH DRIVER
With Driver's rate will be depending on what car you want to use and the route you will be taking in. Subject of use is 10 hours.
For every booking, every car model. With Davao Rent Car on-time performance. We love to make things easy for you!