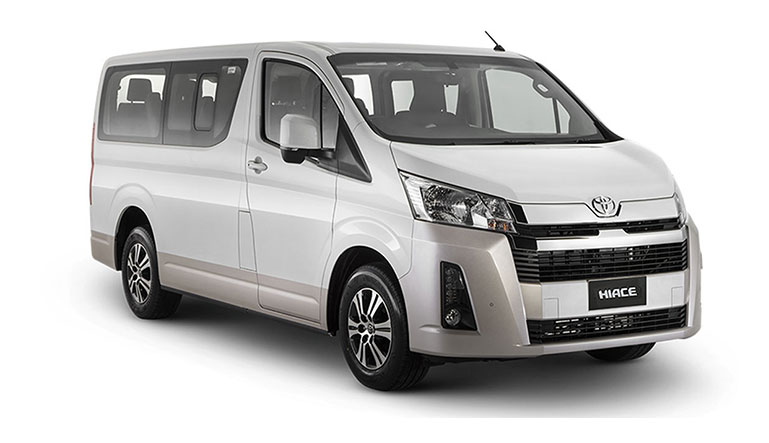 The all-new HiAce is a modern evolution of Toyota's legendary van, it offers more style, comfort and is as versatile as ever. The most obvious changes is its front end, it has grown a hood. This not only makes it look more modern and refined, it should also improve crash protection.
It's equipped with Toyota's 2.8-litre 1GD-FTV 16-valve DOHC inline-4 diIt's equipped with Toyota's 2.8-litre 1GD-FTV 16-valve DOHC inline-4 diesel engine which produces 161hp to 174hp and 420Nm to 450Nm of torque (power figures vary between transmission options). The standard transmission is a 6-speed manual, an optional 6-speed automatic tranny is available on Grandia variants.
Fuel will be shouldered by the renter.
24 hours' car rental, city drive only. When used for out of town trips, we have a separate rate for it, please contact us regarding this matter.
Requirements and Customer Reminders
REQUIREMENTS
2 Valid IDs
Latest proof of billing like electric or water etc.
NO CASH DEPOSIT/CASH BOND REQUIRED
Conditions before returning the unit/car:
Check if there are any scratch and dents.
FULL TANK IN AND OUT
Make sure to have it car wash when returned.
We offer discounted rates depending on the number of days you will be renting and what car you will be renting.
You can have with SELF-DRIVER or WITH DRIVER
With Driver's rate will be depending on what car you want to use and the route you will be taking in. Subject of use is 10 hours.
For every booking, every car model. With Davao Rent Car on-time performance. We love to make things easy for you!