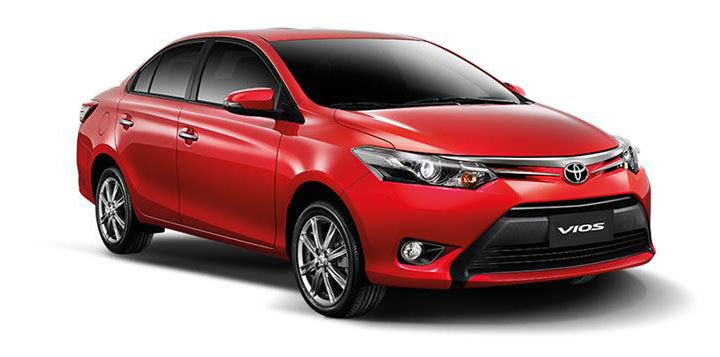 The Toyota Vios is a subcompact sedan and one of Toyota Motor Philippines' most treasured and best-selling nameplates, along with its bigger MPV and SUV brothers. The Vios nameplate was introduced in 2002 and is driven and tested by thousands of Filipino drivers, be it for public or private use.
The refreshed Vios hosts a whole new exterior and interior design. Decorating the front are the long squinting headlights, teardrop-shaped fog lamp vents, plus a wide trapezoidal grille. Even the taillights have been stretched, wrapping to the rear quarter panel. TMP added new Prime variants to its lineup which are equipped with skirts, spoiler, and a differently-styled bumper straight out of the showrooms. The interior, on the other hand, saw a major makeover as well. The cabin features a newly-designed steering wheel that's similar to the one found in the Toyota Yaris, while the dashboard boasts a more unified styling to the sense that it flows smoothly towards the door panels.
Base Rate
| | |
| --- | --- |
| 1-6 Days | 1,700 php |
| 7-21 Days | 1,500 php |
| 22 and Above | 1,300 php |
Fuel will be shouldered by the renter.
24 hours' car rental, city drive only. When used for out of town trips, we have a separate rate for it, please contact us regarding this matter.
Requirements and Customer Reminders
REQUIREMENTS
2 Valid IDs
Latest proof of billing like electric or water etc.
NO CASH DEPOSIT/CASH BOND REQUIRED
Conditions before returning the unit/car:
Check if there are any scratch and dents.
FULL TANK IN AND OUT
Make sure to have it car wash when returned.
We offer discounted rates depending on the number of days you will be renting and what car you will be renting.
You can have with SELF-DRIVER or WITH DRIVER
With Driver's rate will be depending on what car you want to use and the route you will be taking in. Subject of use is 10 hours.
For every booking, every car model. With Davao Rent Car on-time performance. We love to make things easy for you!